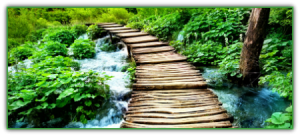 What we believe good or bad with feeling does become our reality. Unfortunately for most of us we carry around beliefs that negatively influence our life so we have to learn to change our beliefs in order to change our life.
In order to understand the anatomy of our beliefs we first have to understand there is a strong correlation between what's inside and what it outside of us. There is a relationship between physical and mental. There is an interrelationship of the whole being taking place that is signified by how weak or strong our body feels when you think about a particular belief.
For example if you believe you will be successful and happy your body feels strong. On the other hand if you believe you will not be successful or happy your body tends to feel weak when you think about your belief.
Before you can change your beliefs you have to understand how they work. Beliefs come to you in words along with a correlating image which evoke a response. Realize that every adjective, adverb and noun probably has an associated image connected to it that it is rarely the same for any two people.
It's important to ask yourself, "What is the image that correlates to my belief?" Never judge or question just be open to whatever comes because this is what your inner wisdom is telling you. Notice the physical sensation that comes when you think about your belief. Sensation means something physical that happens to you.
Using all of your senses, you say your belief out load in the present tense. See it, feel it and sense it. When you say your belief out load each day what you are doing is setting an intention to change it on a physical level.
Feeling it is the mental state, sensing it is the physical state. For example sensation of cold or hot or tightness are physical senses. Feeling is a mental component, "I feel excited, joyful, upset."
When you say your beliefs out load it reminds you of the interrelationship between your physical body and spirit. What happens in the inner forum of consciousness will manifest in your outer world. You are moving toward your intention which is to change your belief.
Stating your new belief in the present tense so it is a new conception and with a new conception there has to be a new manifestation because what you perceive you will conceive.
We are all spiritual beings, part of God and because of this we are all co-creators with the Universe. We will always have the capacity to tap into the life force which created us.  By learning how to change our beliefs it allows us to keep this energy flowing through us instead of pushing it away.
Our spirit energy is continuously moving and we are continuously moving towards fulfilling our intention. You're giving yourself an inner instruction to get rid of negative beliefs that no longer serve you and begin living life to the fullest.
Living life to the fullest is knowing that our life force never ends. Our physical body and our ego eventually die but our soul and spirit are eternal. By changing our beliefs we put ourselves in connection with our life force to always have it available to us and we become one with it.